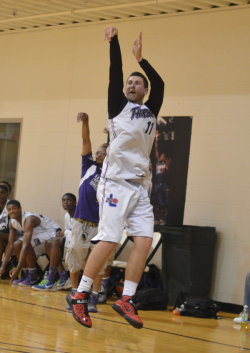 City of Basketball Love:
Nittany Lions head coach Pat Chambers had made the trip down to Gallaudet University to watch [Deividas "Davis" Zemgulis,] the 6-foot-6, 200-pound wing, who had 17 points in the losing effort.

He was impressed with Zemgulis' performance enough to extend a scholarship offer, and quickly a relationship formed between Chambers, Somerville and Zemgulis.

It was the only offer that Zemgulis would need.

Though the original plan was to play through the whole July live period and see who else offered, by May 12, he'd come to the conclusion that Chambers and PSU offered everything he wanted. Somerville didn't need to be convinced any further.

"The more Davis thought about it," he said, "the more he said 'what am I waiting for, they have everything I want?' And I said 'that's my opinion.'"

That Penn State had only made the NCAA Tournament once in the past 13 years didn't bother him in the slightest.

"I really liked the facility, the coaching staff is awesome, I could hang out with the players, I loved the campus," Zemgulis said. "I want to help the team win, because I like being the underdog and just playing hard, playing tough."

In a late-night consolation-bracket game at the Showdown, Zemgulis scored 13 points in a loss, with Chambers and assistant Brian Daly watching from the baseline. Though his shot wasn't falling as consistently as it usually does–Somerville said he's seen Zemgulis hit 40 straight in a workout–it was easy to see why the former Villanova assistant and Boston University head coach was so intrigued.

He's got a wingspan that's easily 6-9 or 6-10, with the ability to put the ball on the floor though he said that's the part of his game he needs to work on the most. Zemgulis can pull up from the mid-range with a quick release but also works well off screens and drifts to open spots on the perimeter while his guards drive-and-kick.

Most impressively, though, is what he does on the other end. Far from a typical European shooter, Zemgulis is a very good athlete (and good student, with a 3.9 GPA) who will come off the weak side to block shots, rebounds well and doesn't mind mixing it up in the paint.

"Honestly, Penn State got a steal," Somerville said. "And I mean, that is no disrespect whatsoever to Penn State…but in terms of the top 25 rankings, there's no doubt in my mind that he could have gone to a school in the top 15 or so. But he's at the absolute right place.
via Deividas Zemgulis a "steal" for Penn State | City of Basketball Love.
Photo: Josh Verlin for City of Basketball Love