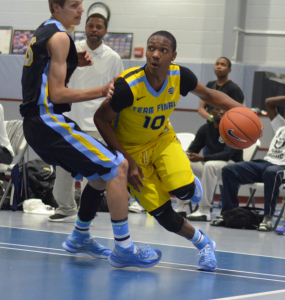 City of Basketball Love:
While [Tony Carr] did not know too much about Maryland, he mentioned that Penn State offers something that no other school can match: the opportunity to once again play alongside Garner.

"Shep Garner goes there now, so that kind of gives Penn State some upside," Carr said. "I wouldn't say that it's more appealing. I think it would just be easier making the transition there. It would be just like the Roman transition."

Carr has already visited both Temple and La Salle, and both offer him unique advantages.

"I think Temple is a great school. It's right around the corner from my house, so I'll be close to my family," he said. "La Salle is a great school too. One of the coaches, Horace Owens, I've known him since I was a young kid. So that's a kind of upside."

Carr plans on visiting Penn State and Maryland in the next month, and may also take a trip to Rhode Island. He has an idea of what he will be looking for as he tours each prospective campus.

"The most important factors in looking at a college is a college where my game would translate to," he said, "and the most important thing is where I can come in and play."
via High-majors calling on Tony Carr after Peach Jam run | City of Basketball Love.