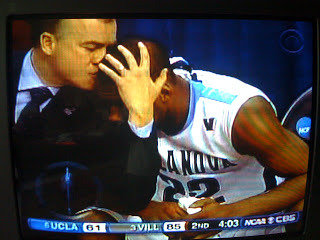 Dave Jones:
What's been going on lately with Penn State men's basketball recruiting is, in another realm entirely. In comparison, it is nothing short of astounding.

This is a program where prior regimes never really attempted to mix with college hoops' big boys on the recruiting trail in the fertile urban areas of Philadelphia, let alone the adjacent Delaware/Maryland/Virginia corridor, known in the trade as the Delmarva or the "DMV." [sic]*

Well, that is very clearly changing. PSU's fourth-year coach Patrick Chambers brought with him his Villanova-partner Keith Urgo as an assistant when he arrived in 2011. He welcomed aboard another member of the Jay Wright mafia last year in Dwayne Anderson. And together, they are attracting talent from the region never before seen at Penn State.

Energizer bunnies Chambers and Urgo laid the ground work by inviting groups of players and coaches up from well-known DC-area AAU teams to visit the Penn State campus through 2011-2013. The visits didn't immediately pay dividends but gave players and their parents a look at the surroundings, made it familiar and showed them that State College wasn't Mars but a doable 3-hour drive to a large and scenic campus.

Then, the young, charming and comfortable Anderson bolstered those relationships and finally got a pair of 4-star recruits to meetings with the closer Chambers.

In the past few months, Penn State has gained verbal commitments from 4-star rising-senior off-guard Josh Reaves, 4-star rising-junior power forward Joe Hampton and 3-star rising-senior small forward Deividas Zemgulis. All are from the DMV. Hampton played for Hyattsville's DeMatha High before transferring to Oak Hill Academy in nearby Fairfax, Va. He joined Reaves who'd transferred from Paul VI High in Fairfax. Zemgulis is from Leonardtown, Md.

Add in Philadelphia 4-star rising-senior power forward Mike Watkins who committed last summer and suddenly Penn State has a core of talent among two classes unlike anything in the program's history.
via Penn State basketballs stunning success recruiting Delmarva could mark dawning of a new age | PennLive.com.
* "DMV" actually stands for DC-Maryland-Virginia and refers to the DC metro area. Delmarva refers to the peninsula east of the Chesapeake Bay.